Vic Viper Zero Bomber
From Bomberpedia
Jump to navigation
Jump to search
Vic Viper Zero Bomber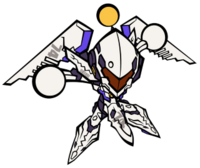 Vic Viper Zero Bomber (ビックバイパー零ボンバー, bikku baipā rei bonbā)[1] is a playable character who appears in Super Bomberman R. He was added in update 2.1 on June 27, 2018.[2] In Super Bomberman R Online, he was added to the shop in the version 1.2.2 update on July 6, 2021.[3]
Biography
A new type LEV Bomberman from Planet Anubis.

Being the third unit of the three mecha developed for testing, it is far more advanced than previous LEV due to its Metatron technology. He is best friends and also rivals with Jehuty Bomber and has a fairly close relationship with Jehuty's A.I. "A.D.A."

~

Super Bomberman R Official Website[2]
Special Ability
Vic Viper Zero Bomber's special ability is the Speed Up (スピードアップ, supīdo appu). By pressing the button, he will quickly fly forward in a straight line, only stopping when he collides with a bomb or obstacle. His speed is high enough to allow him to pass through twelve squares in roughly one second. If he is equipped with the Bomb Kick, he will kick a bomb if he hits it during the boost. However, he is completely vulnerable.
Trivia
Vic Viper Zero is a cameo appearance of the Gradius ship in the video game Zone of the Enders: The 2nd Runner, produced by Konami.
The English Super Bomberman R Official Website originally referred to Vic Viper Zero Bomber as female, but this was changed in early July, 2018. The grammar of the translation is also polished in the updated version. The original transcription was as follows:
A New LEV Bomberman from Planet Anubis.

She is the third prototype as test prototypes. By the implementation of Metatron, she has a unique capability compared with other previous LEVs. Jehuty Bomber is her rival and also war buddy, and she has the fated history with ADA of Jehuty Bomber.

~

Super Bomberman R Official Website[2]
References