Old Snake Bomber
From Bomberpedia
Jump to navigation
Jump to search
Old Snake Bomber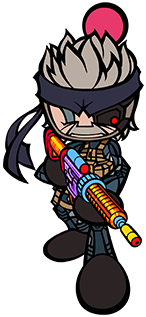 Old Snake Bomber (オールドスネークボンバー, orudo sunēku bonbā)[1] is a playable character who appears in Super Bomberman R Online. He was added on May 27, 2021, as part of Season 1.[2]
Biography
The legendary hero Bomberman of Planet Metal Gear.

Famous for having saved his home planet from the devious superweapon Metal Gear on countless occasions, Snake eventually succumbed to accelerated aging. But some grey hair can't stop Old Snake from continuing to fight the good fight with the help of his partner Otacon. And don't worry, he still loves hiding in cardboard boxes.

~

Super Bomberman R Online Official Website[2]
Special Ability
Old Snake Bomber's special ability is Sneaking Silencer. He becomes completely invisible for ten seconds. If he collects an item, however, the effect will still appear around his body. Once the invisibility ends, there is a twelve second cooldown before he can use it again.
In Super Bomberman R Online, his cooldown is 7 seconds, and he suffers a 30% reduction in speed while his ability is activated.? Prior to the release of season 2, his cooldown was 10 seconds, and his speed reduction was 50%.[3]
Trivia
See Also
References