Planet Technopolis
From Bomberpedia
Jump to navigation
Jump to search
World 1
Planet Technopolis
Planet Technopolis (マグマグスター, magumagusutā, Magumagu? From magunetto meaning magnet Star) is the first world in Super Bomberman R. It is the outermost planet of the Starry Sky Solar System] and its entire surface has been mechanized. Magnet Bomber conquered this planet as a base for the Buggler army, placing mazes, enemy robots, and traps for any intruders to face.

? Basic "good" items are randomized: Bomb Up, Fire Up, and Speed Up.






Stages
1-6
Goal: Turn on 4 switches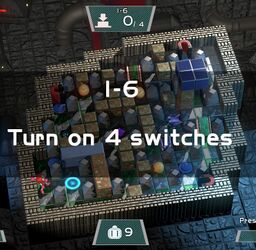 Traps:
Magnet, Large Soft Block, Stacked Block, Enemy Generator
---
Enemies:






---
Items:







---
Notes:
The enemy generator spawns Combatants.
1-9
Goal: Defeat Magnet Bomber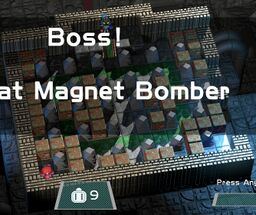 1-10
Goal: Destroy Iron Gauss
Gallery