Goemon Bomber
From Bomberpedia
Jump to navigation
Jump to search
Goemon Bomber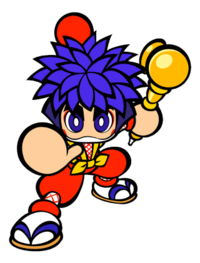 Goemon Bomber (ゴエモンボンバー, goemonbonbā)[1] is a playable character who appears in Super Bomberman R. He was added in update 2.0 on November 15, 2017.[2]
Biography
The Mystical Ninja Bomberman, a legendary outlaw from Planet Goemon.

He may be a thief, but he's a righteous one, and he sees it as his duty to deal with any evildoers who threaten the peace of his home, Oedo Town.

He's got a soft spot for Omitsu, a cute girl who works at his local tea house. Apparently, he also owns a giant clockwork robot that never fails to make an "impact"...

~

Super Bomberman R Official Website[2]
Special Ability
Goemon Bomber's special ability is the Oedo Blaster (大江戸一直線, ōedo itchokusen meaning "Oedo Straight Line"). It acts as a Line Bomb, allowing him to place the maximum number of bombs he has left in a line in front of him. The bombs begin on the square he stands upon and rapidly spawn on each forward square in a line. If there is any kind of an obstacle in the way, such as another character, a bomb, an item, or an enemy character, the Oedo Blaster will stop. There is no cooldown for this ability.
Trivia
Goemon Bomber comes from the Ganbare Goemon franchise by Konami.
In update 2.1 on June 27, 2018, a smoke effect was added to Goemon Bomber's bombs when they spawn during the Oedo Blaster ability.
References