Ratchet & Clank Bomber
From Bomberpedia
Jump to navigation
Jump to search
Ratchet & Clank Bomber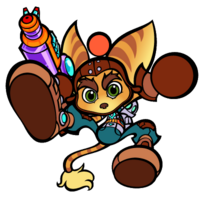 Ratchet & Clank Bomber (ラチェット&クランクボンバー, rachetto & kuranku bonbā)[1] is a playable character who appears in Super Bomberman R. He is exclusive to the PlayStation 4 version of the game.[2]
Biography
New characters from the popular game series Ratchet & Clank make an appearance!

Hailing from the Solana Galaxy, Ratchet Bomber is here with his trusty pal Clank strapped to his back! It's time to save a whole new galaxy as the duo team up to bring their own brand of destruction!

~

Super Bomberman R Official Website[2]
The Japanese character pages adds that Ratchet is a "hero Bomberman" from Planet Veldin (ベルディン, berudin).[1]
Special Ability
Ratchet & Clank Bomber's special ability is the Ratchet Blaster (ラチェットブラスター, rachetto burastā). He fires his gun in a straight line up to four squares ahead. The blast pierces through bombs, but not walls. Any bomb caught in the blast is instantly eliminated from the field without detonation. Characters caught in the blast are stunned for one second. This ability has a four second cooldown period before it may be used again.
Development
Images posted during the development of Ratchet & Clank Bomber on the @officialbomberman Facebook page indicate that his character model was completed by October 31, 2017.
Trivia
Ratchet & Clank are the titular protagonists of a game franchise published by Sony exclusively for PlayStation consoles.
Veldin is the first world in the first Ratchet & Clank game, the planet where Ratchet grew up and met Clank.
References