Xavier Woods Bomber
From Bomberpedia
Jump to navigation
Jump to search
Xavier Woods Bomber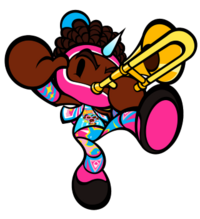 Xavier Woods Bomber (エグゼビア・ウッズボンバー, eguzebia uzzu bonbā)[1] is a playable character who appears in Super Bomberman R. He first appeared in the release of the PlayStation 4, Xbox One, and Steam versions of the game on June 12, 2018, and was added to the Switch version in update 2.1 on June 27, 2018.[2]
Biography
A wrestling superstar and video game guru, this Bomber hosts his own video game channel for his millions of fans. Rumor has it, he has plans to broadcast the next Bomber Battle to the entire galaxy!

His special skill invloves using his trusty trombone, Francesca 2.

~

Super Bomberman R Official Website[2]
The Japanese character page notes that he is a Bomberman wrestler from Planet US (US星, US sei) and adds that he also likes game character cosplay.[1]
Special Ability
Xavier Woods Bomber's special ability is the Xavier Special (エグゼビアスペシャル, eguzebia supesharu). By pressing and holding the button, he creates a 3x3 square shield in the form of a boxing ring. He cannot move or take any actions while the button is held. The shield can last for up to six seconds if the button is held, but it can be deactivated earlier if the button is released or if Xavier Woods Bomber is eliminated. Blasts and characters originating from within the shield can leave, but no objects or blast may pass through it from ground level. After the shield is released, there is a five second cooldown period before Xavier Woods Bomber may use Xavier Special again.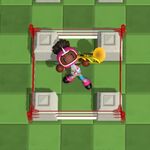 Trivia
Xavier Woods is a WWE wrestler who also runs a YouTube gaming channel called UpUpDownDown.
References