Octopus Bomber
From Bomberpedia
Jump to navigation
Jump to search
Octopus Bomber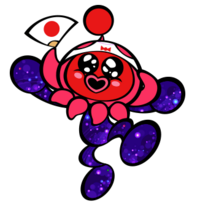 Octopus Bomber (タコボンバー, tako bonbā)[1] is a playable character who appears in Super Bomberman R. He was made available on December 13, 2017, with the release of the Super Bomberman R Original Soundtrack.[1]
Biography
(Japanese text)
(Unofficial English translation)
A

cephalopod

Bomberman who comes from Planet Gradius' brother planet, Planet Parodius. His job is that of a "programmer of hopes and dreams". While traveling the universe, he gives dreams to every person on various planets. Though he may seem funny, his passion is genuine. He sometimes fights united with

Vic Viper Bomber

.
Special Ability
Octopus Bomber's special ability is the Speed Up (スピードアップ, supīdo appu). By pressing the button, he will quickly fly forward in a straight line, only stopping when he collides with a bomb or obstacle. His speed is high enough to allow him to pass through twelve squares in roughly one second. If he is equipped with the Bomb Kick, he will kick a bomb if he hits it during the boost. However, he is completely vulnerable.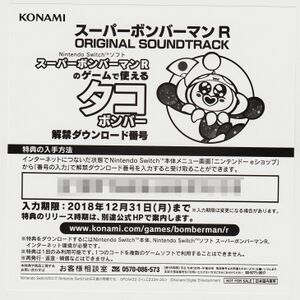 Unlocking Method
Octopus Bomber is not available through normal gameplay. He exists as a promotional bonus for the Super Bomberman R Original Soundtrack. A unique code may be found in each of the first-run copies of the CD. When used on the Japanese Nintendo eShop, he will be unlocked.[2] The deadline for using the code is December 31, 2018.[1] He costs no gems in the game.
Although he is intended solely for Japanese players, his name, related text, and dialogue have all been translated in-game, and an English voice actor speaks his lines when the English dub is enabled.
Trivia
Octopus Bomber is based on Takosuke, a recurring player character in the Parodius video game franchise produced by Konami.
Octopus Bomber shares the exact same special ability and Grand Prix abilities as Vic Viper Bomber.
References