Planet Brainwave
From Bomberpedia
Jump to navigation
Jump to search
World 3
Planet Brainwave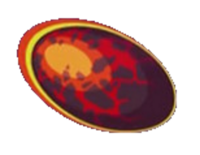 Planet Brainwave (キラキラスター, kirakirasutā, Kirakira? Onomatopoeia for sparkling Star) is the third world in Super Bomberman R. It is the third planet of the Starry Sky Solar System, controlled by a large cyberbrain. When the Bomberman Brothers arrive, Phantom Bomber has already locked the consciousness of the populace within the planet's cyberspace network and set up a cybermaze.

? Basic "good" items are randomized: Bomb Up, Fire Up, and Speed Up.








Stages
Gallery
Blue disables the lock as cyberspace collapses
Trivia
Planet Brainwave is the only world in Super Bomberman R that does not appear in cartoon form in its introductory cutscene. This version of the planet only appears in the World 6 cutscenes and the ending credits.