Tsugaru
From Bomberpedia
Jump to navigation
Jump to search
Tsugaru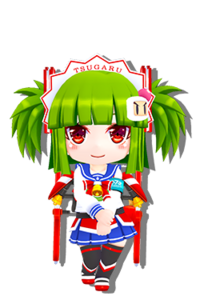 Tsugaru (ツガル) is an unlockable playable character in Bombergirl. She was teased in a series of tweets beginning on February 2, 2018,[1] before being ultimately revealed on February 7.[2] She was first playable during the location test at JAEPO 2018.[2]
Profile
Tsugaru is a Santa-type Bombergirl, an armament god princess produced by the Studio Roots company. As a sniper, long-distance attacks are her forte. The uniform Shiro gave her is her favourite present.[3]
"I'll snipe your heart!"
| | |
| --- | --- |
| Hobby | "Making Christmas ornaments and growing apples. Apples are great, aren't they?" |
| Likes | "Children of the world who believe in Santa Claus. Ah! And mature clothes that make me look like a lady!!" |
| Dislikes | "Blizzards and barking dogs. And dirty chimneys." |
| Brand | 573 Factory (573ファクトリー 573 fakutorī),[4][3] a reference to the max stats for Tokimeki Memorial:Forever With You. |
Basic Abilities
Tsugaru is a Shooter. She is a Bombergirl who is remarkably good at making long-distance attacks. She can deal damage at a range that other Shooters cannot reach, and fire a high-powered, ultra-long laser to wipe out enemies in places she can't even see.[3]
Stats
HP
BOMB
MAX
FIRE
MAX
SPEED
MAX
Medium
x3
x6
x4
Skills
Default skills are always available, while additional skills must be obtained through the Bomber Gacha.[3]
Skill
Details
Screenshot

Default Skill 1
Team Level: Lv.2
Horn Sniper Rifle
ホーンスナイパーライフル?

 

hōn sunaipā raifuru

Shoot at the enemy with a sniper rifle.

Default Skill 2
Team Level: Lv.5
Hyper-Electromagnetic Launcher
ハイパーエレクトロマグネティックランチャー?

 

haipā erekutoro magunetikku ranchā

Fire an ultra-long-distance bombardment that explodes forward in a line. She cannot move for a moment due to the shock.

Additional Skill 1
Team Level: Lv.3
Apple Stun Cider
アップルスタンサイダー?

 

appuru sutan saidā

Throw a bomb forward that creates a stun field.

Additional Skill 2
Team Level: Lv.4
Holy Night Mass
ホーリィナイト・ミサ?

 

hōryi naito misa

Fire a succession of shots at the enemy with a sniper rifle.
Trivia
Tsugaru is a character who originated in Konami's Beatmania IIDX rythym game series and later appeared in the Busou Shiniki action-figure-based franchise.[2] Her status as an "armament god princess" is the literal translation of Busou Shiniki, and her use of sniper rifles is derived from that franchise as well.
Tsugaru's Skills come from attacks that she used in her Busou Shiniki incarnation.[5]
Gallery
References