Kuro (Bombergirl)
From Bomberpedia
Jump to navigation
Jump to search
Kuro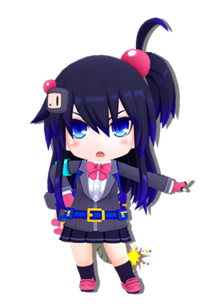 For other uses of this name, see the Kuro disambiguation page.
Kuro (クロ) is an unlockable playable character in Bombergirl. Although her spot on the character selection screen was depicted as unlockable as early as November 24, 2017,[1] she was first formally introduced in the 『ボンバーガール』キャラクター紹介ムービー Bombergirl Character Introduction Movie on February 20, 2018, and was announced for the next location test on March 14, 2018.[2] She officially joined the game on September 27, 2018.[3]
Profile
Kuro is an elite-type Bombergirl who seeks to become a Bomber Master! She believes that victory comes naturally to her, so to suffer defeat is utterly humiliating. She's in pursuit of glory![4]
"Nothing you do will impact my victory."
| | |
| --- | --- |
| Hobby | "Cooking. I like making things, and of course I like eating, too." |
| Likes | "Having all the ingredients. Except for sea cucumbers." |
| Dislikes | "Sea cucumbers." |
| Birthday | September 6 |
| Brand | Academia (アカデミア), a warm brand that touts widespread peace of mind. School uniforms are a featured trait.[5][4] |
Basic Abilities
Kuro is a Bomber-type Bombergirl. Her strength is in destroying enemy towers and bases. She has Skills that can deliver powerful blows, so once her stats are powered up, she can deal heavy damage to the enemy's objects.[4]
Stats
HP
BOMB
MAX
FIRE
MAX
SPEED
MAX
High
x5
x5
x5
Skills
Default skills are always available, while additional skills must be obtained through the Bomber Gacha.[4]
Skill
Details
Screenshot

Default Skill 1
Team Level: Lv.2
Pile Bunker Bomb
パイルバンカーボム?

 

pairu bankā bomu

Place a bomb that explodes twice.

Default Skill 2
Team Level: Lv.5
Gigantic Bomb
ギガンティックボム?

 

gigantikku bomu

Place a very dangerous bomb that thoroughly burns the surroundings.

Additional Skill 1
Team Level: Lv.4
Kuro Kick
クロキック?

 

kuro kikku

Kick a bomb straight forward, breaking blocks that are in the way.

Additional Skill 2
Team Level: Lv.4
Kuro Endurance
クロがまん?

 

kuro gaman

Damage taken is reduced for a fixed period of time.
Trivia
Kuro wears a hairpin and doll in the shape of Black Bomber, often known as "Kurobon" in Japan, and her style of dress emulates his design.
The Kuro Endurance skill was added during the Results of Training Gacha event on March 18, 2020.
Gallery
References