Shiro (Bombergirl)
From Bomberpedia
Jump to navigation
Jump to search
Shiro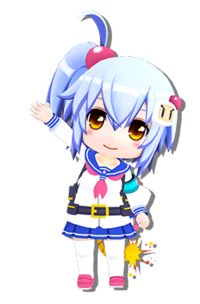 For other uses of this name, see the Shiro disambiguation page.
Shiro (シロ) is one of four default playable characters in Bombergirl.
Profile
Shiro is an ordinary young Bombergirl who strives to become a Bomber Master! Win or lose, she still has fun fighting with all her might![1]
"Youth is a blast!"
| | |
| --- | --- |
| Hobby | "Taking a walk! And also, smiling! Other than that, um, just walking!" |
| Likes | "Having fun! But even things that aren't fun eventually become fun, so I like everything!" |
| Dislikes | "I guess I don't have one... Yeah, probably not!" |
| Birthday | April 6 |
| Brand | Academia (アカデミア), a warm brand that touts widespread peace of mind. School uniforms are a featured trait.[2] |
Basic Abilities
Shiro is a Bomber-type Bombergirl. Her strength is in destroying many blocks at once. By clearing out blocks quickly, she can gather more items early on, and be better prepared to attack the enemy.[1]
Stats
HP
BOMB
MAX
FIRE
MAX
SPEED
MAX
High
x5
x5
x5
Skills
Default skills are always available, while additional skills must be obtained through the Bomber Gacha.[1]
Skill
Details
Screenshot

Default Skill 1
Team Level: Lv.2
Screw Bomb!
スクリューボム!?

 

sukuryū bomu!

Place a special bomb with a blast that pierces through blocks.

Default Skill 2
Team Level: Lv.5
Super Ultra Bomb!!
スーパーウルトラボム‼?

 

sūpā urutora bomu‼

Place a very dangerous bomb that thoroughly burns the surroundings.

Additional Skill 1
Team Level: Lv.4
Soaring Bomb!
飛んでけボム!?

 

tondeke bomu!

Hurl the bomb in front of you a little further away.

Additional Skill 2
Team Level: Lv.4
Super Ultra Fake Bomb♪
スーパーウルトラなんちゃってボム♪?

 

sūpā urutora nanchatte bomu♪'

Places an imitation "Super Ultra Bomb!!" that does not produce an explosion. Only her team members can see that it is fake.
Trivia
Shiro wears a hairpin and doll in the shape of White Bomber, often known as "Shirobon" in Japan, and her style of dress emulates his design.
Shiro serves as the advertising ambassador?

 

宣伝大使 senden taishi for Bombergirl.[3] The official Twitter account often posts from her point of view, and she appears in many of the promotional images. An orange Minbo (the game's standard Supporter type) sometimes appears alongside her as her gofer.[3]
The Super Ultra Fake Bomb♪ skill was added during the Golden DX Gacha event on February 24, 2019.[1]
Gallery
References