Grey
From Bomberpedia
Jump to navigation
Jump to search
Grey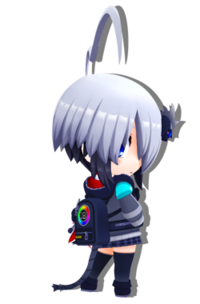 Grey (グレイ gurei) is an unlockable playable character in Bombergirl. She was teased in a series of tweets beginning on March 8, 2019,[1] before being ultimately revealed on March 14.[2] She is unlockable as of March 20 as part of the "Freshman Grey's Determination! Seriousness! Growing Up!! MAX Gacha" event.[3]
Profile
Grey is a junior-type Bombergirl who aims to become a Bomber Master! Her cool front masks hot passion - she's determined not to lose, even to her seniors![4]
"Sheesh, give me a break... O.K., it's over."
Hobby
"Arcade games, maybe?

(Especially rythym games! But I won't say that...)

"
Likes
"Fun stuff, and having all the ingredients. (Whatever my favourite seniors say.)"
Dislikes
"I'm not foolish enough to expose my weakness.

(O.K., it's over!)

"
Birthday
January 8
Brand
Academia (アカデミア), a warm brand that touts widespread peace of mind. School uniforms are a featured trait.[5][4]
Basic Abilities
Grey is a Bomber. She has a Bomb Skill that can penetrate Hard Blocks. With her high-powered bomb that can destroy large areas, she can destroy the enemy's base and tower and crush the enemy.[4]
Stats
HP
BOMB
MAX
FIRE
MAX
SPEED
MAX
High
x5
x5
x5
Skills
Default skills are always available, while additional skills must be obtained through the Bomber Gacha.[4]
Skill
Details
Screenshot

Default Skill 1
Team Level: Lv.3
Lightning Bomb'
ライトニングボム?

 

raitoningu bomu

Place a special, shocking electric bomb that pierces through Hard Blocks.

Default Skill 2
Team Level: Lv.5
Hyper Plasma Bomb
ハイパープラズマボム?

 

haipā purazuma bomu

Place a very dangerous bomb that generates electricity in the surroundings.

Additional Skill 1
Team Level: Lv.4
Line Bomb
ラインボム?

 

rain bomu

Place bombs in a line in front of her.
Trivia
Gallery
References