Emera
From Bomberpedia
Jump to navigation
Jump to search
Emera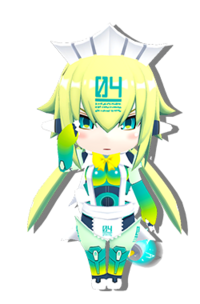 Emera (エメラ) is one of four default playable characters in Bombergirl.
Profile
Emera is a Bombergirl manufactured for battle. Having disappeared from the spotlight, she now returns to participate in the Bomber Battle in a custom maid build.[1]
"Victory is my duty."
| | |
| --- | --- |
| Hobby | "Maid duties such as housekeeping, that is my duty. But shopping is enjoyable." |
| Likes | "Not configured. But cats could kill me with their cuteness." |
| Dislikes | "Not configured. But when I see rust, it makes me sad. It's terrible." |
| Birthday | May 24 |
| Brand | Sciensynaps (サイエンシナプス saienshinapusu), a sci-fi brand of mecha-type girls, that caters to masters who like robots, beam shots, and vernier equipment.[2] |
Basic Abilities
Emera is a Shooter. She is a Bombergirl whose strength is firing rapid-fire projectiles. She can deal the finishing blow to a troublesome enemy who is low on HP, or fire an intense, long-distance beam to clear a path for allies.[1]
Stats
HP
BOMB
MAX
FIRE
MAX
SPEED
MAX
Medium
x3
x5
x3
Skills
Default skills are always available, while additional skills must be obtained through the Bomber Gacha.[1]
Skill
Details
Screenshot

Default Skill 1
Team Level: Lv.1
Delta Thread
Δスレッド?

 

Δ sureddo

Charges three energy shots, then fires them one-by-one to deal damage.

Default Skill 2
Team Level: Lv.5
Omega Delete
Ωデリート?

 

Ω derīto

Fires an intense, ultra-long-distance beam forward. She cannot move for a moment due to the shock.

Additional Skill 1
Team Level: Lv.3
Alpha Blast
αブラスト?

 

α burasuto

Fires a beam forward.

Additional Skill 2
Team Level: Lv.4
Sigma Thread
Σスレッド?

 

Σ sureddo

Charges one big energy shot, then fires it to deal damage.
Trivia
Gallery
References