Grim Aloe
From Bomberpedia
Jump to navigation
Jump to search
Grim Aloe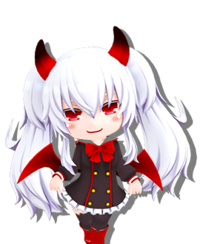 Grim Aloe (グリムアロエ gurimu aroe) is an unlockable playable character in Bombergirl. She was teased in a series of tweets beginning on August 14, 2018,[1] before being ultimately revealed on August 18.[2] She was released during the "Grim Aloe Explosive Battle" event on September 12.[3]
Profile
Suddenly, Grim Aloe from Quiz Magic Academy joins the competition! This uncontrollable girl will make a mockery out of the Bomber Battle stage![4]
"Oniichan,

?

 

"Big brother"

won't you play with me?"
| | |
| --- | --- |
| Hobby | "Mischief♪" |
| Likes | "...Well, my originality." |
| Dislikes | "I can't tell you that♪" |
| Brand | 573 Factory (573ファクトリー 573 fakutorī),[5][4] a reference to the max stats for Tokimeki Memorial:Forever With You. |
Basic Abilities
Grim Aloe is a Blocker. She is a Bombergirl who is good at toying with enemies. She can change a bomb into a block and halt the enemy's progress, or change an enemy into a Minbo and hinder an invasion.[4]
Stats
HP
BOMB
MAX
FIRE
MAX
SPEED
MAX
Extra-High
x3
x4
x5
Skills
Default skills are always available, while additional skills must be obtained through the Bomber Gacha.[4]
Skill
Details
Screenshot

Default Skill 1
Team Level: Lv.2
Wall Magic
ウォールマジック?

 

ōru majikku

Transform bombs into blocks.

Default Skill 2
Team Level: Lv.5
Child's Play
チャイルドプレイ?

 

chairudo purei

Transform enemy characters into Minbos.

Additional Skill 1
Team Level: Lv.3
Love Drain
ラブドレイン?

 

rabu dorein

Place a Skull Mark.?

 

ドクロマーク dokuro māku When an enemy steps on it, it deals damage, and turns the damage into a Heart drop.

Additional Skill 2
Team Level: Lv.4
Love Land
ラブランド?

 

rabu rando

Place a Heart Mark.?

 

ハートマーク hāto māku For ally team members and allied structures in range, HP and durability will slowly restore, respectively.
Trivia
Grim Aloe is a character who originated in Konami's Quiz Magic Academy quiz video game franchise.
Gallery
References