Prune
From Bomberpedia
Jump to navigation
Jump to search
Prune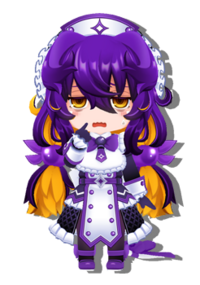 Prune (プルーン , purūn) is an unlockable playable character in Bombergirl. She was teased in a series of tweets beginning on June 11, 2021,[1] before being fully revealed on June 21.[2] She is unlockable as of June 24 as part of the "Prune Live Debut Gacha" event.[3]
Profile
The behind-the-scenes leader of the popular Bomber Idol unit "Pretty Bombers". She doesn't want to work, she has no motivation, but she wants to be pampered. What's in store for tomorrow for the lazy idol Prune!?[3]
"Do I haaave to~?"
| | |
| --- | --- |
| Hobby | "I'm basically the kind of person who doesn't want to do anything, so on off days, I just stay home and sleep endlessly..." |
| Likes | "People who are kind to misfit scum like Pururun..." |
| Dislikes | "Work and cheer... and honest labour, steady growth, and a corresponding sense of accomplishment..." |
| Birthday | November 26 |
| Brand | "Dorupuro" (ドルプロ), an idol-exclusive brand full of sparkling girls and lots of female masters.[4] |
Basic Abilities
Prune is a Blocker. She is a Bombergirl who can place blocks and heal from a short distance. Use her reach to your advantage to delay the enemy invasion and restore your structures and allies![3]
Stats
HP
BOMB
MAX
FIRE
MAX
SPEED
MAX
Extra-High
x3
x4
x5
Skills
Default skills are always available, while additional skills must be obtained through the Bomber Gacha.[3]
Skill
Details
Screenshot

Default Skill 1
Team Level: Lv.1
Prune Wall
ウォール・プルーン?

 

uōru purūn

Generate 3 blocks in a straight line a little further forward.

Default Skill 2
Team Level: Lv.5
Healing Idol Voice
癒しのアイドルボイス?

 

iyashi no aidoru boisu

Charge 3 syringes. Fire 1 syringe at a time to restore your team's players' HP and structures' durability.

Additional Skill 1
Team Level: Lv.3
Stun Poison
スタンポイズン?

 

sutan poizun

Stun the enemy in front of you.
Trivia
Prune's name references both her colour and the fruit of the same name, following the naming convention of the previous Pretty Bombers.
The "Pretty Bombers" idol group refers to the character Pretty Bomber.
Like Pine, Prune stands apart from other Bombergirls by being initially revealed in a comic. She was first seen in a comic tweeted on June 11, 2021, three days before her teaser sillhouette was shown.[5]
Prune's symbol is a diamond, while Momoko's is a heart and Pine's is a clover, alluding to playing card suits. Among the Pretty Bombers, Prune is the Jack of Diamonds (ジャック・オブ・ダイア, jakku obu daia).[1]
Prune refers to herself as "Pururun."
Gallery
References