Oren
From Bomberpedia
Jump to navigation
Jump to search
Oren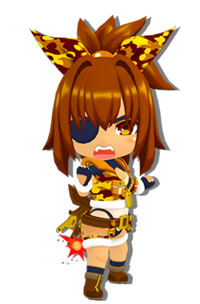 Oren (オレン) is one of four default playable characters in Bombergirl.
Profile
"Life is a battle!" That's the motto of the military Bombergirl Oren, a superwoman who loves fighting more than getting three meals a day! There's no reason she wouldn't join in on this competition full of strong girls![1]
"Alright, you'd all better grit your teeth!"
| | |
| --- | --- |
| Hobby | "Anything that gets my body moving, but swimming is the best." |
| Likes | "War! War! Rivalry! Bouts! Conflict! Battle!" |
| Dislikes | "'IT', is that what it's called? I don't understand PC's or the net or things like that." |
| Birthday | April 14 |
| Brand | Oren's brand is the Tactical Assault Force (TAF), which focuses on military tactics.[2] |
Basic Abilities
Oren is an Attacker. Her strength is in cutting deep into enemy lines. She has a Skill that allows her to jump over blocks, which can be used to find alternate routes to invade the enemy.[1]
Stats
HP
BOMB
MAX
FIRE
MAX
SPEED
MAX
Low
x2
x3
x7
Skills
Default skills are always available, while additional skills must be obtained through the Bomber Gacha.[1]
Skill
Details
Screenshot

Default Skill 1
Team Level: Lv.2
Dunk Blade
ダンクブレイド?

 

danku bureido

Jump forward a little and deal damage to the surroundings.

Default Skill 2
Team Level: Lv.4
Revol Slash
リヴォルスラッシュ?

 

rivoru surasshu

Move forward without stopping and deal damage.

Additional Skill 1
Team Level: Lv.1
Smash Blade
スマッシュブレード?

 

sumasshu burēdo

Deal damage to enemies in front of her.

Additional Skill 2
Team Level: Lv.3
Lunchtime
ランチタイム?

 

ranchitaimu

Restores a little of her HP.
Trivia
The name "Oren" comes from "orenji" (オレンジ), meaning "orange".
The food Oren eats when using her Lunchtime skill is an onigiri, a kind of rice ball.
The Lunchtime ability was added to the game through the New Skill Initiation Gacha event.[3]
Gallery
References