Pastel
From Bomberpedia
Jump to navigation
Jump to search
Pastel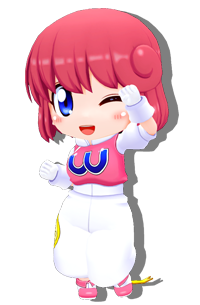 Pastel (パステル pasuteru) is an unlockable playable character in Bombergirl. She was teased in a tweet on July 1, 2019,[1] before being revealed in an exclusive video on July 4.[2] She was made playable during the Detana!! Pastel Gacha event starting on July 11, 2019.
Profile
The idol Pastel, of Team TwinBee from Donburi Island, joins the competition! With her cousin Light's handgun in one hand and her favourite airplane WinBee, she scrambles to takeoff for the Bomber Battle![3]
"Even without oniichan, I'm good enough on my own!"
| | |
| --- | --- |
| Hobby | "Music appreciation and all sports, especially swimming! I'm also learning to play the piano♪" |
| Likes | "Everybody on Team TwinBee. They're my dependable companions and beloved family." |
| Dislikes | "Those who disrupt peace! I punish bad guys with my Ribbon Attack!" |
| Brand | 573 Factory (573ファクトリー 573 fakutorī),[3] a reference to the max stats for Tokimeki Memorial:Forever With You. |
Basic Abilities
Pastel is a Shooter. She is a Bombergirl whose strength is dealing damage. With a forward ranged attack, she can defeat enemies with a shot that becomes more damaging over time.[3]
Stats
HP
BOMB
MAX
FIRE
MAX
SPEED
MAX
Medium
x3
x6
x3
Skills
Default skills are always available, while additional skills must be obtained through the Bomber Gacha.[3]
Skill
Details
Screenshot

Default Skill 1
Team Level: Lv.1
Aimed Shot
ためショット?

 

tame shotto

When activated, she will enter the aming state. While in this state, the power of her shots increases up to 3 grades.

Default Skill 2
Team Level: Lv.4
WinBee Backup Attack
ウインビー援護攻撃?

 

uinbī engo kougeki

Executes a ranged attack. WinBee bombs the ground in front of her.

Additional Skill 1
Team Level: Lv.5
WinBee Scramble
ウインビースクランブル?

 

uinbī sukuranburu

Fire a succession of shots while moving. Damage taken while activated is received all at once afterward.
Trivia
Pastel is a character who originated in Konami's TwinBee shooting game series. She is the pilot of WinBee.
Gallery
Although multiple redesigns were drafted, Pastel's original design was ultimately used.[4]
References