Shiron
From Bomberpedia
Jump to navigation
Jump to search
Shiron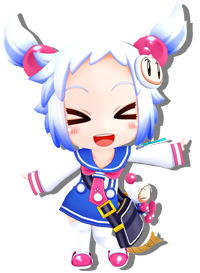 Shiron (シロン) is an unlockable playable character in Bombergirl. She was teased in a tweet on July 22, 2020,[1] before being fully revealed on July 27.[2] She was made playable during the Shiron Arrives! Aspiring Bombergirl Gacha event starting on July 30, 2020.[3]
Profile
Shiron is a rather ordinary Bombergirl who dreams of becoming a true Bombergirl! To catch up with her favourite big sister, Shiro, today and tomorrow, Shiron is at the edge of a cliff![3]
"From neighbouring stars to the furthest reaches of the universe, Shiron will be there!"
| | |
| --- | --- |
| Hobby | "Meals! After that, play! Other than that, ummm... meals!" |
| Likes | "Purple apple dobin mushi and Cosmo Gum! But the one I love the most is my big sister!" |
| Dislikes | "I hate people who get mad easily and nag." |
| Birthday | May 5 |
| Brand | Academia (アカデミア), a warm brand that touts widespread peace of mind. School uniforms are a featured trait.[4] |
Basic Abilities
Shiron is a Bomber. She is a Bombergirl whose strength is in destroying many soft blocks at once. She can break lots of blocks, collect lots of items, and make her way to the enemy's towers and base faster than anybody else.[3]
Stats
HP
BOMB
MAX
FIRE
MAX
SPEED
MAX
High
x5
x5
x5
Skills
Default skills are always available, while additional skills must be obtained through the Bomber Gacha.[3]
Skill
Details
Screenshot

Default Skill 1
Team Level: Lv.1
Sunlight Fire Bomb!
サンライトファイアーボム!?

 

sanraito faiā bomu!

Hurls a special type of bomb straight forward, destroying all soft blocks in its wake.

Default Skill 2
Team Level: Lv.5
Shining Ultra Bomb!!
シャイニングウルトラボム‼?

 

shainingu urutora bomu‼

Places an especially dangerous bomb that thoroughly burns the surroundings.

Additional Skill 1
Team Level: Lv.3
Take That Bomb!
きってけボム!?

 

motteke bomu!

Grabs and carries a bomb that is in front of her, then tosses it forward a little. She cannot carry special bombs.
Trivia
Shiron is themed after Shirobon, the protagonist of Bomberman Jetters.
Shiron's voice actress, Tomoko Kaneda, is the same actress who voiced Shirobon in Bomberman Jetters.
In Shiron's biography, the line "...today and tomorrow, Shiron is at the edge of a cliff!" references lyrics from Boku Wa Gakeppuchi, the first opening song from Bomberman Jetters.
Shiron's quotation in her biography references the motto of the Jetters, often repeated after each preview of the next episode in the show.
Shiron's skills reference the "Bomber Shoot", a Bomberman's method of attack in Bomberman Jetters, whereby the character hurls a bomb forward at their target rather than placing it on the ground.
Gallery
References