Urushi
From Bomberpedia
Jump to navigation
Jump to search
Urushi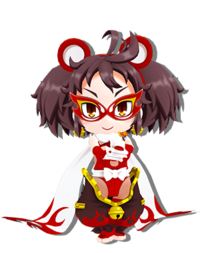 Urushi (ウルシ) is an unlockable playable character in Bombergirl. She was teased in a series of tweets beginning on August 28, 2017,[1] before being ultimately revealed on August 30.[2]
Profile
Urushi-chan is a righteous thief like Nezumi Kozō who aids the weak and crushes the wicked. She has raised caused alarm in the world by announcing her next target to be the Bomber Battle championship[3]
"Heh heh, can you catch me?"
Hobby
"Music appreciation. Live concerts are good, but I can listen more thoroughly at home. I also have a headphone collection."
Likes
"'Peace', I think. I like the quiet life."
Dislikes
"It's difficult to judge, but in the end, I detest 'evil'."
Birthday
November 13
Brand
Urushi's brand is Toyodou?

 

東曄堂 toyodou, roughly "oriental shrine". Like Urushi herself, it is a retro-Japanese style brand organized with an old-fashioned, exotic design.[4]
Basic Abilities
Urushi is an Attacker. Her strength is in covert tactics. By making use of skills that are concealed to the enemy, she can stealthily penetrate the enemy's weak point.[3]
Stats
HP
BOMB
MAX
FIRE
MAX
SPEED
MAX
Low
x2
x3
x7
Skills
Default skills are always available, while additional skills must be obtained through the Bomber Gacha.[3]
Skill
Details
Screenshot

Default Skill 1
Team Level: Lv.1
Ninja Arts Pinwheel
忍法ねずみ花火?

 

ninpou nezumi hanabi

A big shuriken rotates around, damaging her surroundings.

Default Skill 2
Team Level: Lv.4
Ninja Arts Hidden Fireworks
忍法花火隠れ?

 

ninpou hanabigakure

Deals damage centered on herself as she disappears from sight. If she uses a bomb or skill, or if she takes damage, she will reappear.

Additional Skill 1
Team Level: Lv.3
Ninja Arts Idaten Foot
忍法韋駄天足?

 

ninpou idaten ashi

Move quickly for a certain amount of time in exchange for HP.

Additional Skill 2
Team Level: Lv.3
Ninja Arts Respawn Return
忍法リスポーン戻?

 

ninpou risupōn modo

Return to the nearest start position or unblocked respawn point.
Trivia
Gallery
References