Papuru
From Bomberpedia
Jump to navigation
Jump to search
Papuru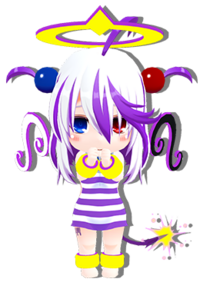 Papuru (パプル) is an unlockable playable character in Bombergirl. She has been present since the original version of the game, in which she was the only unlockable character.[1]
Profile
A kind-hearted fallen angel Bombergirl who doesn't like conflict - that's Papuru. She happened to meet her partner Seija when she descended to Earth. She has joined the Bomber Battle in order to return to heaven![2]
"T-this is God's punishment...?"
Hobby
"Reading. I like the heart-wringing feelings I get after reading things like romance novels."
Likes
"I like Western confections, especially rare cheesecake.?

 

no-bake cheesecake

But I do happen to eat too much..."
Dislikes
"I don't really exercise, so I'm bad at things like sports..."
Birthday
October 4
Brand
"Sanctuary" (サンクチュアリ sankuchuari), a mature brand with a calm impression, full of girls who have a divine (angelic or godly) motif.[3]
Basic Abilities
Papuru is a Shooter. She is a Bombergirl who is effective at handling both allies and enemies. She can hit allies to raise their HP, and hit enemies to lower their HP.[2]
Stats
HP
BOMB
MAX
FIRE
MAX
SPEED
MAX
Medium
x3
x6
x3
Skills
Default skills are always available, while additional skills must be obtained through the Bomber Gacha.[2]
Skill
Details
Screenshot

Default Skill 1
Team Level: Lv.3
Judgement
ジャッジメント?

 

jajjimento

Fire an arrow. Hit allies recover while hit enemies take damage.

Default Skill 2
Team Level: Lv.5
Requiem
レクイエム?

 

rekuiemu

Generate multiple pillars that deal damage on collision.

Additional Skill 1
Team Level: Lv.4
Cerberus
ケルベロス?

 

keruberosu

Fire three arrows in forward directions. Hit allies recover while hit enemies take damage.

Additional Skill 2
Team Level: Lv.4
Orthrus
オルトロス?

 

orutorosu

Fire two arrows arcing from her left and right sides in a circular pattern. Hit allies recover while hit enemies take damage.
Trivia
Gallery
References