Shiori Fujisaki (Bombergirl)
From Bomberpedia
Jump to navigation
Jump to search
Shiori Fujisaki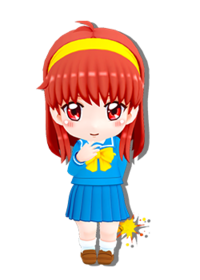 This article is about the Bombergirl character. For the Super Bomberman R character, please see Shiori Fujisaki Bomber.
Shiori Fujisaki (藤崎詩織 fujisaki shiori) is an unlockable playable character in Bombergirl.
Profile
Shiori Fujisaki of "Tokimeki Memorial" is a superheroine-type Bombergirl who has a sharp mind, excellent grades, and is athletic and attractive, piling up perfections upon perfections. Can you really become a master who meets her ideals!?[1]
"Nice to meet you, everyone. My name is Shiori Fujisaki."
| | |
| --- | --- |
| Hobby | "Listening to classical music and collecting hairbands." |
| Likes | "I like spaghetti carbonara." |
| Dislikes | "Nothing in particular." |
| Brand | 573 Factory (573ファクトリー 573 fakutorī),[2] a reference to the max stats for Tokimeki Memorial:Forever With You. |
Basic Abilities
Shiori Fujisaki is a Bomber-type Bombergirl. She has a bomb Skill that increases in power each time it's used. She's also able to make her allies invincible by confessing to them Under the Legendary Tree. Shiori is a good cooperative unit who can unite with allies and attack the enemy camp.[1]
Stats
HP
BOMB
MAX
FIRE
MAX
SPEED
MAX
High
x5
x5
x5
Skills
Default skills are always available, while additional skills must be obtained through the Bomber Gacha.[1]
Skill
Details
Screenshot

Default Skill 1
Team Level: Lv.2
Popularity Bomb
好感度ボム?

 

koukando bomu

Each time it is placed, Shiori's popularity rises. The greater her popularity, the more powerful the bomb is. If she is defeated, her popularity drops to 0.

Default Skill 2
Team Level: Lv.5
Under the Legendary Tree
伝説の樹の下で?

 

densetsu no ki no shita de

Confess to 1 ally, making both her and her ally invincible for a while.

Additional Skill 1
Team Level: Lv.4
Bad Rumour
悪い噂?

 

warui uwasa

Places multiple bombs randomly on the screen.

Additional Skill 2
Team Level: Lv.2
Popularity Penetration Bomb
好感度つらぬきボム?

 

koukando tsuranuki bomu

The higher the popularity, the greater the explosion, and the blast pierces through blocks.
Gallery
Shiro with a Supporter wearing a Shiori wig, offered as the fourth promotional hint.
Trivia
Shiori Fujisaki is the protagonist of Tokimeki Memorial, a dating sim developed by Konami.
Teaser pictures were posted on the official Bombergirl Twitter account from October 27, 2017 up to her unveiling on November 15.[3] She then became obtainable at the running location test.[4]
A figurine of Shiori Fujisaki was released.
The For Shiori, Popularity Penetration Bomb skill was added during the Golden DX Gacha event on February 24, 2019.[1]
References