Shinichi Nakamoto
From Bomberpedia
Jump to navigation
Jump to search
Shinichi Nakamoto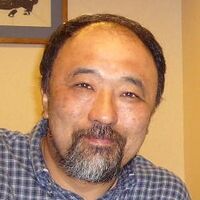 Born:
January 17, 1958 (age 64)[1]
Alma Mater:
Hokkaido University
Occupation:
Game creator
Title:
At Hudson Soft:
Programmer (1978-1986)
Company Director (1986-1999)
Executive Vice-President (1999-2006)
At SilentSystem:
Executive Engineer (2006-)
At Skymark Airlines:
Part-Time Auditor (2008-2015)
Website:
SilentSystem
Shinichi Nakamoto (中本伸一) is the creator of Bomberman for the NES, responsible for the introduction of the character, Bomberman, as well as many of the foundations of Bomberman gameplay, and is the former executive vice-president of Hudson Soft.
Early Life
Shinichi Nakamoto has said that as a child, he always took new interests as a challenge, and never gave up easily. He liked to take on various hobbies, from plastic models to amateur radio construction. This eventually led to his interest in computers when he became a university student.[1]
After attending Hokkaido Sapporo Tsukisamu High School, Nakamoto entered Hokkaido University. He studied with professor Aoki Yoshinao as part of the Hokkaido Microcomputer Study Group.[2] As a student, he began working part-time for Hudson Soft in game development in 1979.[1] In 1980, he dropped out of university to work for Hudson Soft full-time, even though Hudson Soft founder Yuji Kudou told him it would not be a problem for him to join the company after graduation.[2][3]
Little is currently known about the development of Hudson Soft's port of Lode Runner. It is listed alongside Bomberman as one of Nakamoto's two "magnum opuses" (代表作解説) in the Game Programmer Introduction Hudson Secret Strategy book. According to the Video Game Music Preservation Foundation, a former Hudson Soft staff member stated that, though uncredited, Nakamoto was responsible for the game's programming, graphics, and music driver.[4]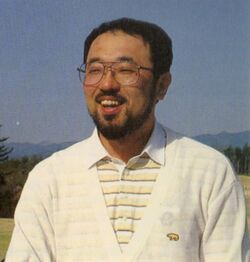 In 1980, Hudson Soft developed a faster BASIC compiler for their use in game development and wrote a simple game, called Bomber Man, to test it. The game was not very popular. Three years later, Nakamoto looked through Hudson Soft's old library for content to produce a new game and rediscovered Bomber Man. In one 72-hour session, he not only ported Bomber Man to the Famicom, but also heavily redesigned it. Taking inspiration from shooting games that were popular at the time, such as Hudson Soft's own Star Force ports (from which some bonus items were even derived), he implemented power-ups to increase the player's firepower and bomb capacity, as well other unique power-ups such as the Remote Control, which disappear upon death, adding another layer of complexity.[5]
Feeling that the protagonist of Bomber Man was uninspired ("just some middle-aged man wearing a hat"), Nakamoto repurposed the enemy sprites from his earlier work, Lode Runner, for the protagonist, establishing a connection between the two games. He specifically chose a robot for fear that the player would feel too bad if a character such as a "cute princess" were to routinely be detonated in explosions. Seven more enemy types were introduced, and were made to be cute rather than intimidating to stand out from other games of the time. Sound effects and a basic music track were added, and the password system from Lode Runner was carried over as well.[5]
Career
Nakamoto was appointed company director of Hudson Soft in 1986, and became executive vice-president in 1999. He was heavily involved in the sales and production of the earliest PC games in Japan.[3] In 2005, he and a colleague, Setsuo Okada (岡田 節男), established the company SilentSystem for the engineering and sale of modular devices.[6] In 2006, he left Hudson Soft. He also worked as a part-time external auditor for Skymark Airlines from 2008 until the company's bankruptcy in 2015.[7][3]
Known Works
This is a list of the Bomberman-related games for which Shinichi Nakamoto has been openly credited, either within the game or in external sources:
Trivia
Nakamoto's blood type is B.[1]
Nakamoto claimed to still have had an interest in RC as a hobby during the 1990's, and said that he found time to fly remote-controlled planes on most days.[1]
Nakamoto enjoys bikes.[8]
In the original Bomberman and Bomberman Party Edition, Nakamoto appears as one of the secret bonus items.
In Bomberman Online, Nakamoto appears on the 87th Collection Panel, "Mr. Nakamoto". This panel unlocks the full "Super Armor!!!" custom part set, as featured in the opening cinematic.
Gallery
References
↑ 1.0 1.1 1.2 1.3 1.4 1.5 Game Programmer Introduction Hudson Secret Strategy. Shogakukan, ISBN4-09-104137-X, p. 86.
↑ 2.0 2.1 青木教授に北海道文化賞, 北大時報, October 2001. Accessed August 14, 2018.
↑ 3.0 3.1 3.2 "中本伸一". Wikipedia: The free encyclopedia. Wikimedia Foundation, Inc. March 26, 2018. Accessed August 14, 2018.
↑ Lode Runner (NES). Video Game Music Preservation Foundation. January 2, 2018. Accessed August 14, 2018.
↑ 5.0 5.1 Super Bomberman Hudson Official Guidebook. Shogakukan, 1993, pp. 104-107.
↑ Skymark Airlines. Notice on Change of Director. May 15, 2008. Accessed August 14, 2018.