Bomber Thief
From Bomberpedia
Jump to navigation
Jump to search
Bomber Thief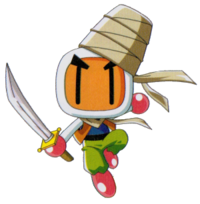 Bomber Thief (ボンバーシーフ, bonbā shīfu) is a playable character in Bomberman Wars.[1]
Bomber Thief is one of four units led by Bomber Hero to defeat the Lizard Man. He is a default unit who is unlocked from the onset of the game. His forte is his high speed, and he works best in maps that have few obstacles. If there is a clear path, he is capable of reaching the opponent's king and placing a bomb next to him on his second turn of the battle. His speed also allows him to escape from an ordinary bomb's blast range in just one turn if there is a clear path. When faced as an opponent, his value as a unit can be diminished if he is encircled by units and bombs, preventing him from making the most of his speed.[2]
Bomb
Range
Move
Range
Special
1
3
N/A
Plush
A plush of Bomber Thief was produced by SEGA in 1998 as a tie-in to Bomberman Wars.
References